Intwine Connect releases latest LTE Cellular Router for 2022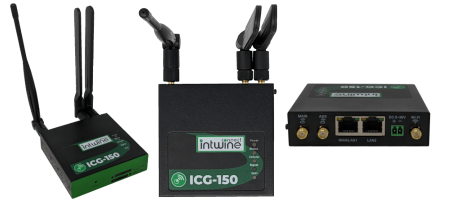 CLEVELAND, OHIO. Innovative tech firm, Intwine Connect, rings in the new year with an exciting announcement. The company shared the launch of their latest product, the ICG-150 LTE Cellular Router.

Their mantra, "Stay Connected and Protected with Intwine Connect '' is echoed with the release of this router as it is equipped with reliable cellular LTE internet connectivity. Customers can rest in peace knowing Intwine Connect's new router provides reliable primary and backup internet. Not only does this new product provide reliable connectivity and hardened security but, customers are also able to monitor uptime, track data usage and receive automated alerts when issues arise. The ICG-150 works within Intwine's device management portal, for easy administration of large quantities or remote access to the router.
"Reliable connectivity is crucial for our customers. That is why we are excited to build upon our prior models, incorporate the latest R&D, and release this ICG-150 Cellular Router for 2022." said David Martin, CEO, at Intwine Connect.
The ICG-150 Router is versatile and priced competitively, suiting many environments including small businesses, branch locations, mobile and remote work sites as well as academic institutions. Additionally, the new product has a multitude of uses such as providing reliable primary or backup connectivity, serving as a point-of-sale system failover, among others.
Dave Martin, the founder and CEO of Intwine Connect, hinted at more exciting news to come in the near future. So, stay tuned to see what's next for this technology company! For now, keep you and your businesses connected and protected with Intwine Connect's latest product, the LTE Cellular Router.